Groundbreaking ceremony kicks off construction of Oro Station Automotive Innovation Park
21.08.2020
Oro Station held a groundbreaking ceremony on Thursday to celebrate its new Automotive Innovation Park in Oro-Medonte, Canada.
MEDIA RELEASE // Oro Station Automotive Innovation Park
The groundbreaking officially marks the start of construction of a 500,000 square foot industrial facility that will join a business park with a motorsport road course and testing facilities. The project will be home to automotive engineering, education, service, supply and manufacturing businesses. The facility is forecasted to bring 1,800 construction jobs to the region and 700 full-time jobs upon completion.
Oro Station will be home to a 4.1km motor circuit for performance testing, training, research and commercial use, designed by Driven. In partnership with Georgian College, Oro Station will become a centre for automotive education providing opportunities for students of multiple faculties to engage with the industry and partake in advanced training opportunities. Oro Station will provide a destination and platform for new automotive technologies to be developed in Ontario.
The first phase of development for the park is to include site servicing and earthworks with the circuit planned for completion in 2022. Construction of commercial and industrial buildings is slated to begin in 2021.
ORO STATION
TORONTO, CANADA
Oro Station will become the ultimate destination for automotive enthusiasts and innovators, with a new 200 acre multi-use Innovation Park in Ontario.
Doug Ford, Premier of Ontario, was in attendance at the ceremony and broke ground along with Attorney-General and local MPP Doug Downey, Minister of Municipal Affairs and Housing Steve Clark, Mayor of Oro-Medonte Harry Hughes and members of the automotive industry and local community.
Mr Ford said 'We make some of the best cars anywhere in the world here in Ontario. There's no reason why we can't make our province the top destination for auto innovation and this project will help us maintain our position as leaders in the sector across North America. I want to thank Oro Station for their hard work to champion this project and bring more jobs and economic opportunity to Simcoe County.'
'We are grateful for and humbled by the foresight and support of the Premier and Provincial government, our local Member of Parliament, and our Regional and Municipal governments.
The Automotive Innovation Park began as a concept, born from a passion to preserve the automotive past while looking to an innovative future with education at its core. We are honoured to have unanimous support from multiple levels of government and excited to be building Oro Station here in Ontario.'
GEOFFREY CAMPBELL
MANAGING PARTNER, ORO STATION
'From day one, our government has been committed to cutting red tape and getting critical projects started. It was my privilege to make a Minister's Zoning Order last fall to help get shovels into the ground faster for the development of this unique facility,' said Minister of Municipal Affairs and Housing, Steve Clark. 'This project is just one example of our ongoing work to build strong communities with good local jobs.'
MPP Doug Downey said, 'The impact that Oro Station will have on our local economy is tremendous. Geoff and his team have shown true Ontario Spirit, ingenuity and dedication. I thank them for their commitment to economic investment in our community, and I am excited to see this project continue to grow and flourish well into our future.'
For more information about Oro Station, visit orostation.ca.
To watch a CTV News Barrie report of the event yesterday, you can do so by clicking here.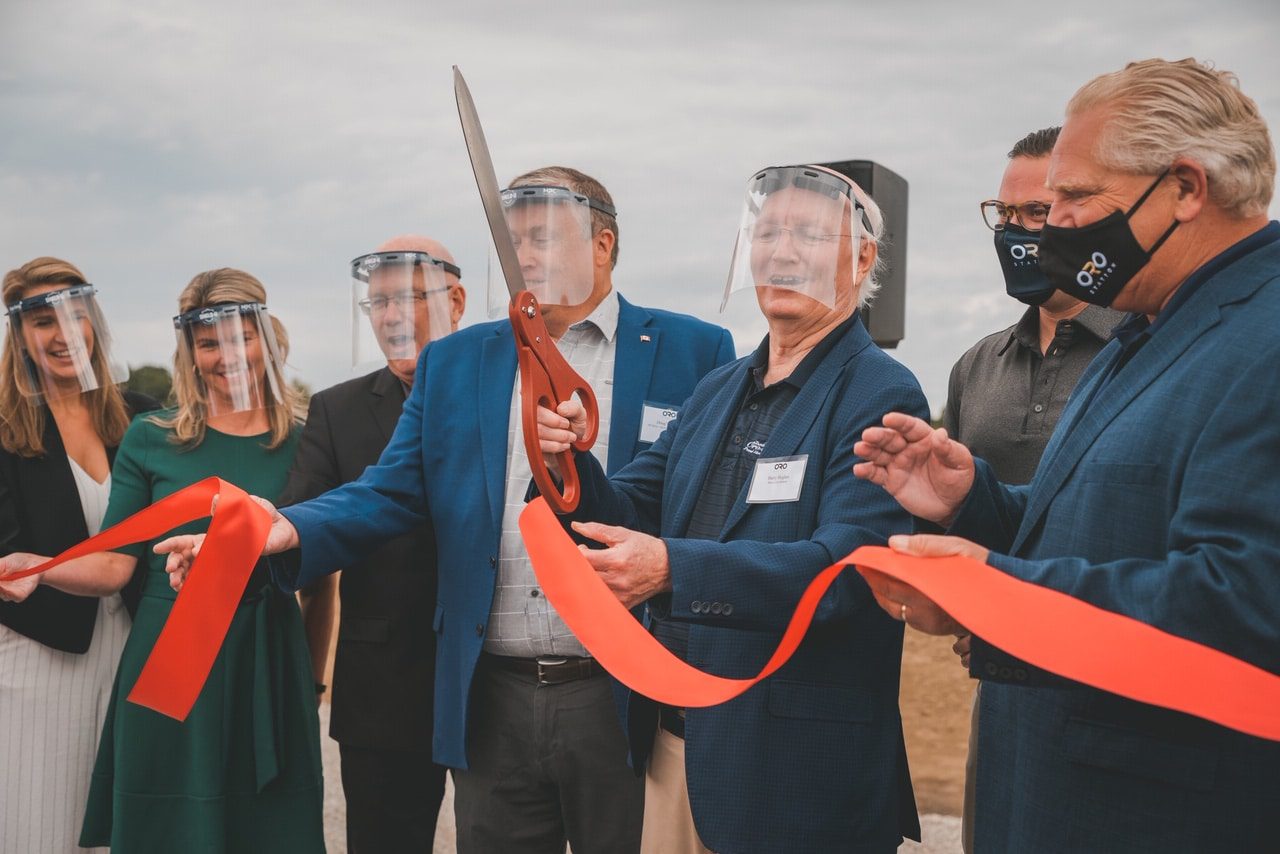 CONTACT US
WE WILL BE IN TOUCH
Get in touch to discuss how Driven International can help your project.
ADDRESS
Driven International Ltd
Landmark House,
Station Road
Hook, Hampshire
RG27 9HA, UK
PHONE
UK: +44 (0) 1256 767766
USA: +1 (0) 706 870 3743
Driven International Ltd
Landmark House,
Station Road
Hook, Hampshire
RG27 9HA, UK
UK: +44 (0) 1256 767766
USA: +1 (0) 706 870 3743